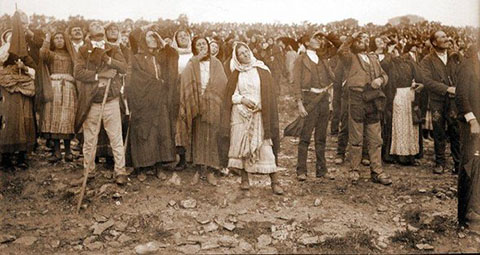 The Miracle of the Sun (O Milagre do Sol) was an event which occurred just after midday on Sunday October 13, 1917, attended by some 30,000 to 100,000 people who were gathered near Fátima, Portugal. Several newspaper reporters were in attendance and they took testimony from many people who claimed to have witnessed extraordinary solar activity. This recorded testimony was later added to by an Italian Catholic priest and researcher in the 1940s.
According to these reports, the event lasted approximately ten minutes. The three children (Lucia dos Santos, Jacinta Marto and Francisco Marto) who originally claimed to have seen Our Lady of Fátima also reported seeing a panorama of visions, including those of Jesus, Our Lady of Sorrows, Our Lady of Mt. Carmel, and of Saint Joseph blessing the people.
The event was officially accepted as a miracle by the Roman Catholic Church on October 13, 1930. On October 13, 1951, the papal legate, Cardinal Tedeschini, told the million people gathered at Fátima that on October 30, October 31, November 1, and November 8, 1950, Pope Pius XII himself witnessed the miracle of the sun from the Vatican gardens.