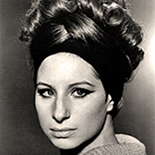 Barbra Joan Streisand (born Barbara Joan Streisand, April 24, 1942, is an American singer-songwriter, actress, writer, film producer, and director.
She has won two Academy Awards,eight Grammy Awards, five Emmy Awards including one Daytime Emmy, a Special Tony Award, an American Film Institute award, a Kennedy Center Honors award, a Peabody Award, and is one of the few entertainers who has won an Oscar, Emmy, Grammy, and Tony Award.
She is one of the most commercially and critically successful entertainers in modern entertainment history, with more than 71.5 million albums shipped in the United States and 140 million records sold worldwide. She is the best-selling female artist on the Recording Industry Association of America's (RIAA) Top Selling Album Artists list, the only female recording artist in the top ten, and the only artist outside of the rock and roll genre.
Avinu Malkeinu "Our Father, Our King"), a Jewish prayer recited during Jewish services on Rosh Hashanah and Yom Kippur, as well on the Ten Days of Repentance from Rosh Hashanah through Yom Kippur.
Avinu malkeinu sh'ma kolenu
Avinu malkeinu chatanu l'faneycha
Avinu malkeinu chamol aleynu
Ve'al olaleynu vetapeinu
Our father our king, hear our voice
Our father our king, we have sinned before you
Our father our king, Have compassion upon us
and upon our children
Avinu malkeinu
Kaleh dever
vecherev vera'av mealeynu
Avinu malkeinu
kaleh chol tsar
Umastin mealeynu
Our father our king
Bring an end to pestilence,
war, and famine around us
Our father our king,
Bring an end to all trouble
and oppression around us
Avinu malkeinu
Avinu malkeinu
Kat'veinu besefer chayim tovim
Avinu malkeinu chadesh aleynu
Chadesh aleynu shanah tovah
Our father our king,
Our father our king,
Inscribe us in the book of (good) life
Our father our king, renew upon us
Renew upon us a good year
Sh'ma kolenu
Sh'ma kolenu
Sh'ma kolenu
Hear our voice
Hear our voice
Hear our voice
Avinu malkeinu
Our father our king,
Avinu malkeinu
Chadesh aleynu shanah tovah
Our father our king,
Renew upon us a good year
Avinu malkeinu
Sh'ma kolenu
Sh'ma kolenu
Sh'ma kolenu
Sh'ma kolenu
Our father our king,
Hear our voice
Hear our voice
Hear our voice
Hear our voice