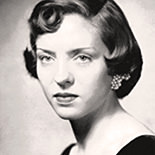 Donna J. Stone (February 23, 1933 – December 12, 1994) was an American poet and philanthropist. Several of her poems were published individually, both before and after her death, as well as a book of poetry entitled Wielder of Words: A Collection of Poems. Wielder of Words, edited by Ms. Stone's younger son, received a number of honors, and was named the American Poetry Society's 1991 Book of the Year.
Ms. Stone also played an active role in several charities, including the Association for Retarded Children (now The Arc) and the National Committee for the Prevention of Child Abuse (now PCA America). She also established the Matthew J. Pascal Foundation, a private family foundation named after her firstborn son.
DUSK
Donna J. Stone
The poet said
Don't ever tread
Too softly toward the night.
As dusk appears,
My twilight years
Cling to the waning light.
With careful aim
I feed the flame
Of youth, while yet it may
Reflect the fires
And bold desires
That were another day.
I wonder if
I'll ever leave
A memory in time.
Will words live on,
When I am gone,
To make my poem rhyme?
Oh, I have dreamed
A thousand dreams,
But few have come to be.
I see the bend
Where all dreams end.
What will be left of me?
A shadow falls,
Tomorrow calls
To angels as they tell
Of love and laughter
Living after
We who knew them well.
==========
OF MATT AND ME
Donna J. Stone

The doctors said he'd never be
More than a child of two or three,
My firstborn son.
He'd grow in stature and in limb,
But there would be a part of him
That missed the sun.
"Put him away!" That was the voice
Of those who thought there was no choice
For Matt and me.
They couldn't see a mother's will,
A child whom illness could not still –-
My Matt and me.
It was a long and slippery climb
With days that never seemed to rhyme,
But Matt was strong.
He learned to reason, learned to care;
His beat was different but rare,
A cheerful song.
He holds a job at thirty-two,
More than some learned people do.
He does it well.
There isn't anyone as kind.
He's learned to seek and how to find
Refuge from hell.
This is a dear and gentle man,
Who gives the most of all he can –-
Love without end.
So if you glance at Matt and me,
Don't miss the splendor that is he –-
My son, my friend.