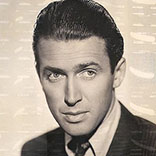 James "Jimmy" Maitland Stewart (May 20, 1908 – July 2, 1997) was an American film and stage actor.
He is known for his distinctive drawl voice and down-to-earth persona. Over the course of his career, he starred in many films widely considered classics. He was known for portraying the average American Middle Class man, with everyday life struggles.
Stewart was nominated for five Academy Awards, winning one in competition and receiving one Lifetime Achievement award. Stewart was named the third greatest male screen legend in cinema history by the American Film Institute. He was a major Metro-Goldwyn-Mayer contract star. He also had a noted military career and was a World War II and Vietnam War veteran, who rose to the rank of Brigadier General in the United States Air Force Reserve.
The actor Cary Grant said of Stewart's acting technique, "He had the ability to talk naturally. He knew that in conversations people do often interrupt one another and it's not always so easy to get a thought out. It took a little time for the sound men to get used to him, but he had an enormous impact. And then, some years later, Marlon came out and did the same thing all over again—but what people forget is that Jimmy did it first."