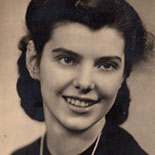 Anne Stevenson (born January 3, 1933) is an American-British poet and writer.
Stevenson is the author of over a dozen volumes of poetry, of some books of essays and literary criticism, of a controversial biography of the American poet Sylvia Plath, Bitter Fame: A Life of Sylvia Plath (1989), and two critical studies of Elizabeth Bishop. Stevenson uses a hearing aid; several of her poems (including "Hearing with my Fingers" and "On Going Deaf") refer to her experience of deafness.
ELEGY: IN COHERENT LIGHT
Anne stevenson
Teach-cheap, teach-cheap, teach-cheap, teach-cheap—
Sparrows are plying their chisels in the summer ivy,
Chipping the seconds spark by spark out of the hours.
I read in each whistling chip the sun's holography.
My brain's a film, I'm made of timed exposures,
And pounding my ears and eyes with waves of light—
These animate flakes, these pictures I call sight.
But now you're out of the picture, no one can keep
Coherent sightings of you, except in language.
All the warm rhetoric is wrong. Death isn't sleep.
Faith in eternal love is love's indulgence.
I prize what you wrote and meet you in what I write.
We still keep house in a living tenement of words.
Pull down their walls of ivy, and you kill the birds.
===========
POEM FOR A DAUGHTER
Anne Stevenson
'I think I'm going to have it,'
I said, joking between pains.
The midwife rolled competent
sleeves over corpulent milky arms.
'Dear, you never have it,
we deliver it.'
A judgement years proved true.
Certainly I've never had you
as you still have me, Caroline.
Why does a mother need a daughter?
Heart's needle, hostage to fortune,
freedom's end. Yet nothing's more perfect
than that bleating, razor-shaped cry
that delivers a mother to her baby.
The blood cord snaps that held
their sphere together. The child,
tiny and alone, creates the mother.
A woman's life is her own
until it is taken away
by a first particular cry.
Then she is not alone
but part of the premises
of everything there is:
a time, a tribe, a war.
When we belong to the world
we become what we are.