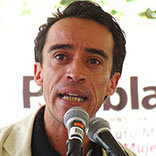 Roberto Sosa (born April 18, 1930 – May 23, 2011) was an author and poet born in Yoro, Honduras.
Sosa published Los Pobres in 1969, which won the Adonais Prize in Spain. Un Mundo Para Todos Dividido, published in 1971, won the Casa de las Americas Prize in Cuba. By 1990, he had published six books of poetry, three of prose, and two anthologies of Honduran literature. In 1990, he published Obra Completa (Complete Works). The Difficult Days, Poems, The Common Grief, and The Return of the River have all been translated into English.
THE MOST ANCIENT NAMES OF FIRE
Roberto Sosa
Blessed are the lovers
for theirs is the grain of sand
that sustains the center of the seas.
Dazed by the play of fountains
they hear nothing
but the music sprinkled by their names.
Trembling
they cling to one another
like small frightened animals who tremble, knowing they will die.
Nothing is alien to them.
Their only strength against the wind and tide
are the beautifying words of all existence: I love you.
We shall grow old together to the end.
==========
THE POOR
Roberto Sosa
The poor are many
and so—
impossible to forget.
No doubt,
as day breaks,
they see the buildings
where they wish
they could live with their children.
They
can steady the coffin
of a constellation on their shoulders.
They can wreck
the air like furious birds,
blocking out the sun.
But not knowing these gifts,
they enter and exit through mirrors of blood,
walking and dying slowly.
And so,
one cannot forget them.