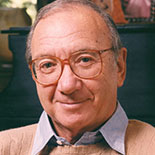 Neil Simon (born July 4, 1927) is an American playwright and screenwriter.
He has written over thirty plays and nearly the same number of movie screenplays, most adapted from his plays. He has received more Oscar and Tony nominations than any other writer.
He grew up in New York during the Great Depression, with his parents' financial hardships affecting their marriage, and giving him a mostly unhappy and unstable childhood. He often took refuge in movie theaters where he enjoyed watching the early comedians like Charlie Chaplin, which inspired him to become a comedy writer. After a few years in the Army Air Force Reserve after graduating high school, he began writing comedy scripts for radio and some popular early television shows. Among them were The Phil Silvers Show and Sid Caesar's Your Show of Shows in 1950, where he worked alongside other young writers including Carl Reiner, Mel Brooks and Selma Diamond.
He began writing his own plays beginning with Come Blow Your Horn (1961), which took him three years to complete and ran for 678 performances on Broadway. It was followed by two more successful plays, Barefoot in the Park (1963) and The Odd Couple (1965), for which he won a Tony Award, making him a national celebrity and "the hottest new playwright on Broadway." His style ranged from romantic comedy to farce to more serious dramatic comedy. Overall, he has garnered seventeen Tony nominations and won three. During one season, he had four successful plays showing on Broadway at the same time, and in 1983 became the only living playwright to have a New York theater, the Neil Simon Theatre, named in his honor. During the time between the 1960s, 70s, and 80s, he wrote both original screenplays and stage plays, with some films actually based on his plays.
After winning the Pulitzer Prize for drama in 1991 for Lost in Yonkers, critics began to take notice of the depths, complexity and issues of universal interest in his stories, which expressed serious concerns of most average people. His comedies were based around subjects such as marital conflict, infidelity, sibling rivalry, adolescence, and fear of aging. Most of his plays were also partly autobiographical, portraying his troubled childhood and different stages of his life, creating characters who were typically New Yorkers and often Jewish, like himself. Simon's facility with dialogue gives his stories a rare blend of realism, humor and seriousness which audiences find easy to identify with.