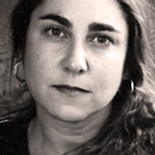 Maurya Simon (born December 7, 1950) is an American poet, essayist, and visual artist.
She is the author of ten collections of poetry, including two books that have been nominated for a Pulitzer Prize and a National Book Award. Her most recent volume of poetry is The Wilderness: New and Selected Poems (Red Hen Press, 2018).
THE ERA OF THE PERIOD
Maurya Simon
It was a civilizing urge—
to bring closure, to come full circle,
to worship time by divvying it out
into portions, increments, sentences.
All things must end, mustn't they?
Breath, as well as mortgages, as well
as prison terms, marriage vows, etc.
It was a civilizing urge—to end
one thought and begin another,
to pardon a slight, borrow a rake,
castle the future, crib the past,
count each day, siphon the moment.
But what about before this era,
when the currents of time flowed on
eternally through our veins through
our minds our souls our lives when
all bodies were charged by turning stars
by the bisons' migrations the gazelles'
leaping the clouds' turmoil and the ants'
gyrations—the whole heaving universe
endlessly dancing? A civilized urge.
Necessary. No doubt. The way. Modern
minds. Work. Bidding the forbidden. To
halt. What else could we do? Period."
==========
FAVORITE THINGS
Maurya Simon
My favorite bra is bright blue.
One cup is larger than the other
so that my heart has room to expand.
This bra speaks now and then.
It abhors Neo-Expressionism,
black underwear, florescent lights.
Lately it's been encouraging me
to become a wet nurse to mankind.
My bra argues for divine love,
the milk of human kindness.
It's quickly falling out
of my favor.
My favorite shoe is shaped like a book.
When I put my right foot into it
I become a great, golden Buddha
pulling gently on my earlobes—
suddenly I can read the whole,
miraculous world in a glance.
When I put my left foot into it
I shrink down to a water beetle.
Then I scurry in bet"
Then I scurry in between the litter
of words, circumventing commas
and periods, and rowing through
the silences on each page.
========
THE GIFT
Maurya Simon
This darkness is a rope, not a prison:
hand over hand I haul myself in
to touch your face, to blossom.
My fingers crawl toward heaven
leaving behind whirling shadows;
this darkness is a rope, not a prison.
I follow light through forgotten
canyons and grottos;
I touch your face and I know
that even the sun has a mission:
as it climbs, it grows.
This darkness is a rope, not a prison
not a cell from which I hasten.
Freely, hand over hand I follow
to touch your face, to open and open
like a night-blooming jasmine,
or a well widening with echoes:
this darkness is a rope, not a prison,
I touch your face, I blossom.