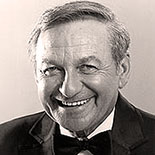 Frank Shuster, (September 5, 1916 – January 13, 2002) was a Canadian comedian best known as a member of the comedy duo Wayne and Shuster (Johnny Wayne being the other half).
Born in Toronto, Ontario, he grew up in Niagara Falls. In 1996, he was made an Officer of the Order of Canada.
He was married to Ruth Shuster and had two children: Rosie and Steve. Rosie Shuster was a comedy writer for Saturday Night Live and other television programs, and former wife of Lorne Michaels. Steve Shuster is also in the entertainment industry. He was also the cousin of Joe Shuster, co-creator of Superman.