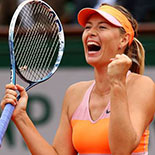 Maria Yuryevna Sharapova (born April 19, 1987) is a Russian professional tennis player, who is ranked world No. 9 by the Women's Tennis Association (WTA).
A United States resident since 1994, Sharapova has competed on the WTA tour since 2001. She has been ranked world No. 1 in singles by the WTA on five separate occasions, for a total of 21 weeks. She is one of ten women, and the only Russian, to hold the career Grand Slam. She is also an Olympic medalist, having earned silver for Russia in women's singles at the 2012 Summer Olympics in London.
Sharapova became the world No. 1 for the first time on August 22, 2005, at the age of 18, and last held the ranking for the fifth time for four weeks from June 11, 2012, to July 8, 2012. Her 35 singles titles and five Grand Slam titles—two at the French Open and one each at the Australian Open, Wimbledon, and US Open—rank third among active players, behind Serena and Venus Williams. She won the year-ending WTA Finals in her debut in 2004. She has also won three doubles titles.