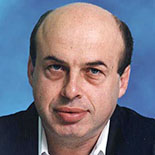 Natan Sharansky (Natan Shcharansky; born January 20, 1948) is a Soviet-born Israeli politician, human rights activist and author who spent nine years in Soviet prisons for allegedly spying for the American Defense Intelligence Agency (DIA). Natan Sharansky has served as Chairman of the Executive of the Jewish Agency since June 2009.
Sharansky was denied an exit visa to Israel in 1973. The reason given for denial of the visa was that he had been given access, at some point in his career, to information vital to Soviet national security and could not now be allowed to leave. After becoming a refusenik, Sharansky became a human rights activist, working as a translator for dissident and nuclear physicist Andrei Sakharov, and spokesperson for the Moscow Helsinki Group and a leader for the rights of refuseniks.
On March 15, 1977 Sharansky was arrested on multiple charges including high treason and spying for an American agency (Defense Intelligence Agency). The accusation stipulated that he passed to the West lists of over 1,300 refuseniks, many of which were denied exit visas because of their knowledge of state secrets, which resulted in a publication by Robert C. Toth, "Russ Indirectly Reveal 'State Secrets': Clues in Denials of Jewish Visas". High treason carried the death penalty. The following year, in 1978, he was sentenced to 13 years of forced labor.
Sharansky spent time in the Lefortovo Prison in Moscow, followed by Vladimir and Chistopol prisons, where for part of the time he was placed in solitary confinement. His health deteriorated, to the point of endangering his life. Later he was detained in Perm 35, a post-Stalin-Gulag-type so-called "strict regimen colony" in Perm Oblast. He kept himself sane during solitary confinement by playing chess with himself, in his head.
Sharansky appeared in a March 1990 edition of National Geographic magazine. The article, "Last Days of the Gulag" by Mike Edwards, profiles through photographs and text one of the few remaining Soviet prison labor camps. The article featured a photo of Natan Sharansky and his wife Avital in their home in Israel viewing photos of the same Gulag where he had been imprisoned, but as it appeared in 1990. Sharansky remarked in the article that after viewing images of the prisoner's faces he could discern that the protocol of oppression was still at work. The author also showed Sharansky a photo of the cold isolation cell where he had himself been confined. Sharansky commented with irony that conditions had improved slightly—the stark cell now featured a thin bench bolted to the middle of the floor. He said that if that bench had existed when he was there he could have utilized it to sleep, albeit uncomfortably.
As a result of an international campaign led by his wife, Avital Sharansky (including assistance from East German lawyer Wolfgang Vogel, New York Congressman Benjamin Gilman and Rabbi Ronald Greenwald), Sharansky was released on 11 February 1986 as part of a larger exchange of detainees. He was the first political prisoner released by Mikhail Gorbachev due to intense political pressure from Ronald Reagan.
Sharansky and three low-level Western spies (Czech citizen Jaroslav Javorský and West German citizens Wolf-Georg Frohn and Dietrich Nistroy) were exchanged for Czech spies Karl Koecher and Hana Koecher held in the USA, Soviet spy Yevgeni Zemlyakov, Polish spy Marian Zacharski and East German spy Detlef Scharfenorth (the latter three held in West Germany). The exchange took place on the Glienicke Bridge between East and West Berlin, which had been used before for this purpose.
In 1995 Sharansky and Yoel Edelstein founded the Yisrael BaAliyah party (a play of words, since "aliya" means both Jewish emigration to Israel, and "rise", thus the party name means "(People of) Israel immigrating (to the State of Israel)", as well as "Israel on the rise"), promoting the absorption of the Soviet Jews into Israeli society.