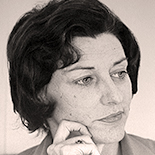 Anne Sexton (November 9, 1928 – October 4, 1974) was an influential American poet and writer known for her highly personal, confessional poetry. She won the Pulitzer Prize for poetry in 1967. Themes of her poetry include her long battle with depression. After repeated attempts, she took her own life in 1974.
HER KIND
Anne Sexton
I have gone out, a possessed witch,
haunting the black air, braver at night;
dreaming evil, I have done my hitch
over the plain houses, light by light:
lonely thing, twelve-fingered, out of mind.
A woman like that is not a woman, quite.
I have been her kind.
I have found the warm caves in the woods,
filled them with skillets, carvings, shelves,
closets, silks, innumerable goods;
fixed the suppers for the worms and the elves:
whining, rearranging the disaligned.
A woman like that is misunderstood.
I have been her kind.
I have ridden in your cart, driver,
waved my nude arms at villages going by,
learning the last bright routes, survivor
where your flames still bite my thigh
and my ribs crack where your wheels wind.
A woman like that is not ashamed to die.
I have been her kind.
=========
THE CIVIL WAR
Anne Sexton
I am torn in two
but I will conquer myself.
I will dig up the pride.
I will take scissors
and cut out the beggar.
I will take a crowbar
and pry out the broken
pieces of God in me.
Just like a jigsaw puzzle,
I will put Him together again
with the patience of a chess player.
How many pieces?
It feels like thousands,
God dressed up like a whore
in a slime of green algae.
God dressed up like an old man
staggering out of His shoes.
God dressed up like a child,
all naked,
even without skin,
soft as an avocado when you peel it.
And others, others, others.
But I will conquer them all
and build a whole nation of God
in me—but united,
build a new soul,
dress it with skin
and then put on my shirt
and sing an anthem,
a song of myself.
========
WANTING TO DIE
Anne Sexton
Since you ask, most days I cannot remember.
I walk in my clothing, unmarked by that voyage.
Then the almost unnameable lust returns.
Even then I have nothing against life.
I know well the grass blades you mention,
the furniture you have placed under the sun.
But suicides have a special language.
Like carpenters they want to know which tools.
They never ask why build.
Twice I have so simply declared myself,
have possessed the enemy, eaten the enemy,
have taken on his craft, his magic.
In this way, heavy and thoughtful,
warmer than oil or water,
I have rested, drooling at the mouth-hole.
I did not think of my body at needle point.
Even the cornea and the leftover urine were gone.
Suicides have already betrayed the body.
==========
WHAT THE BIRD WITH THE HUMAN HEAD KNEW
Anne Sexton
I went to the bird
with the human head,
and asked,
Please Sir,
where is God?
God is too busy
to be here on earth,
His angels are like one thousand geese assembled
and always flapping.
But I can tell you where the well of God is.
Is it on earth?
I asked.
He replied,
Yes. It was dragged down
from paradise by one of the geese.
I walked many days,
past witches that eat grandmothers knitting booties
as if they were collecting a debt.
Then, in the middle of the desert
I found the well,
it bubbled up and down like a litter of cats
and there was water,
and I drank,
and there was water,
and I drank.
Then the well spoke to me.
It said: Abundance is scooped from abundance,
yet abundance remains.
Then I knew.