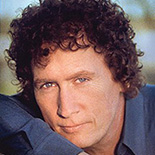 Randy Lynn Scruggs (born August 3, 1953) is a music producer, songwriter and guitarist.
Scruggs had his first recording at the age of 13. He has won a Grammy Award and was twice named "Musician of the Year" at the Country Music Association Awards. He is the eldest son of Earl Scruggs.
As a songwriter, Scruggs's credits include "We Danced Anyway", "Love Don't Care (Whose Heart It Breaks)", "Love Has No Right", "Don't Make It Easy for Me", "Chance of Lovin' You", and "Angel in Disguise".
Three renditions of 'Sanctuary' below:
SANCTUARY
Lyrics by Randy Scruggs
Lord, prepare me to be a sanctuary
Pure and holy, tried and true
With thanksgiving, I'll be a living
Sanctuary for You