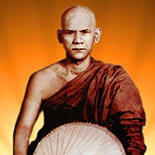 Mahasi Sayadaw U Sobhana (July 29, 1904 – August 14, 1982) was a Burmese Theravada Buddhist monk and meditation master.
Sobhana had a significant impact on the teaching of Vipassana (Insight) meditation in the West and throughout Asia. In his style of practice, derived from the so-called "New Burmese Method" of U Nārada, the meditator anchors their attention on the sensations of the rising and falling of the abdomen during breathing, observing carefully any other sensations or thoughts.
Mahāsi Sayādaw was a questioner and final editor at the Sixth Buddhist Council on May 17, 1954. He helped establish meditation centers all over Burma as well as in Sri Lanka, Indonesia, Thailand, and by 1972 the centers under his guidance had trained more than 700,000 meditators. In 1979, he traveled to the West, holding retreats at newly founded centers such as the Insight Meditation Society (IMS) in Barre, Massachusetts, U.S. In addition, meditators came from all over the world to practice at his center in Yangon. When the Mahāsi Sayādaw died on August 14, 1982 following a massive stroke, thousands of devotees braved the torrential monsoon rains to pay their last respects.