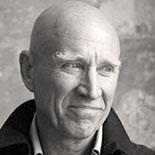 Sebastião Salgado (born February 8, 1944) is a Brazilian social documentary photographer and photojournalist.
He has traveled in over 100 countries for his photographic projects. Most of these, besides appearing in numerous press publications, have also been presented in books such as Other Americas (1986), Sahel: l'homme en détresse (1986), Sahel: el fin del camino (1988), Workers (1993), Terra (1997), Migrations and Portraits (2000), and Africa (2007). Touring exhibitions of this work have been, and continue to be, presented throughout the world. Longtime gallery director Hal Gould considers Salgado to be the most important photographer of the early 21st century, and gave him his first show in the United States.
Salgado has been awarded numerous major photographic prizes in recognition of his accomplishments. He is a UNICEF Goodwill Ambassador, and an honorary member of the Academy of Arts and Sciences in the United States. He was awarded The Royal Photographic Society's Centenary Medal and Honorary Fellowship in recognition of a sustained, significant contribution to the art of photography in 1993.
Between 2004 and 2011, Salgado worked on "Genesis," aiming at the presentation of the unblemished faces of nature and humanity. It consists of a series of photographs of landscapes and wildlife, as well as of human communities that continue to live in accordance with their ancestral traditions and cultures. This body of work is conceived as a potential path to humanity's rediscovery of itself in nature.
Together, Lélia and Sebastião have worked since the 1990s on the restoration of a small part of the Atlantic Forest in Brazil. In 1998, they succeeded in turning this land into a nature reserve and created the Instituto Terra. The Instituto is dedicated to a mission of reforestation, conservation and environmental education.