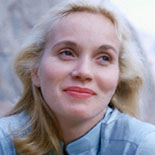 Eva Marie Saint (born July 4, 1924) is an American actress and producer.
She is known for starring in Elia Kazan's On the Waterfront (1954), for which she won an Academy Award for Best Supporting Actress, and Alfred Hitchcock's North by Northwest (1959). She received Golden Globe and BAFTA Award nominations for A Hatful of Rain (1957) and won a Primetime Emmy Award for the television miniseries People Like Us (1990).
Her film career also includes roles in Raintree County (1957), Exodus (1960), Grand Prix (1966), Nothing in Common (1986), Because of Winn-Dixie (2005), Superman Returns (2006) and Winter's Tale (2014).