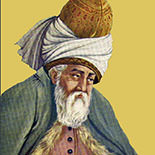 Jalal ad-Dīn Muhammad Balkhi, more popularly in the English-speaking world simply as Rumi (September 30, 1207 – December 17, 1273), was a 13th-century Persian poet, jurist, theologian, and Sufi mystic.
His poems have been widely translated into many of the world's languages and transposed into various formats.

GREEN EARS
Rumi
There was a long draught. Crops dried up.
The vineyard leaves turned black.
People were gasping and dying like fish
thrown up on shore and left there.
But one man was always laughing and smiling.
A group came and asked,
"Have you no compassion for this suffering?"
He answered, "To your eyes this is a drought.
To me, it is form of God's joy.
Everywhere in this desert I see green corn
growing waist high, a sea-wilderness
of young ears greener than leeks.
I reach to touch them.
How could I not?
You and your friends are like Pharaoh
drowning in the Red Sea of your body's blood.
Become friends with Moses, and see this other river water."
When you think your father is guilty of an injustice,
his face looks cruel. Joseph, to his envious brothers,
seemed dangerous. When you make peace with your father,
he will look peaceful and friendly. The whole world
is a form of truth.
When someone does not feel grateful
to that, the forms appear to be as he feels.
They mirror his anger, his greed, and his fear.
Make peace with the universe. Take joy in it.
It will turn to gold. Resurrection
will be now. Every moment,
a new beauty.
And never any boredom!
Instead this abundant, pouring
noise of many springs in your ears.
The tree limbs will move like people dancing,
who suddenly know what the mystical life is.
The leaves snap their fingers like they're hearing music.
They are! A sliver of a mirror shines out
from under a covering. Think how it will be
when the whole thing is open to the air and the sunlight!
There are some mysteries that I'm not telling you.
There's so much doubt everywhere, so many opinions
that say, "What you announce may be true
in the future, but not now."
But this form of universal truth that I see
says,
This is not a prediction. This is here
in this instant, cash in the hand!
This reminds me of the sons of Uzayr,
who were out on the road looking for their father.
They had grown old, and their father had miraculously
grown young! They met him and asked, " Pardon us, sir,
but have you seen Uzayr? We heard that he's supposed
to be coming along this road today."
"Yes," said Uzayr, "he's right behind me."
One of the sons replied, "That's good news!"
The other fell on the ground.
He had recognized his father.
"What do you mean news! We're already inside
the sweetness of his presence."
To your minds there is such a thing as news,
whereas to the inner knowing, it's all
in the middle of its happening.
To doubters, this is pain.
To believers, it's gospel.
To the lover and the visionary,
it's life as it's being lived!
The rules of faithfulness
are just the door and the doorkeeper.
They keep the presence from being interrupted.
Being unfaithful is like the outside of a fruit peeling.
It's dry and bitter because it's facing away from the center.
Being faithful is like the inside of the peeling,
wet and sweet. But the place for peelings
is the fire. The real inside is beyond "sweet"
and "bitter." It's the source of deliciousness.
This can't be said. I'm drowning in it!
Turn back! And let me cleave a road through water
like Moses. This much I will say,
and leave the rest hidden:
Your intellect is in fragments, like bits of gold
scattered over many matters. You must scrape them
together, so the royal stamp can be pressed into you.
Cohere, and you'll be as lovely as Samarcand
with its central market, or Damascus. Grain by grain,
collect the parts. You'll be more magnificent
than a flat coin. You'll be a cup
with carvings of the king
around the outside.
The Friend will become bread and springwater for you,
a lamp and a helper, your favorite dessert
and a glass of wine.
Union with that one
is grace. Gather the pieces,
so I can show you what is.
That's what talking is for,
to help us to be One. Manyness
is having sixty different emotions.
Unity is peace, and silence.
I know I ought to be silent,
but the excitement of this keeps opening
my mouth as a sneeze or yawn does.
Muhammad says, I ask forgiveness seventy times a day,
and I do the same. Forgive me. Forgive my talking
so much. But the way God makes mysteries manifest
quickens and keeps the flow of words in me continual.
A sleeper sleeps while his bedclothes drink in
the riverwater. The sleeper dreams of running around
looking for water and pointing in the dream to mirages,
"Water! There! There!" It's that There!
that keeps him asleep. In the future, in the distance,
those are illusions. Taste the here and the now of God.
This present thirst is your real intelligence,
not the back-and-fourth, mercurial brightness.
Discursiveness dies and gets put in the grave.
This contemplative joy does not.
Scholarly knowledge is a vertigo,
an exhausted famousness.
Listening is better.
Being a teacher is a form of desire,
a lightning flash. Can you ride to Wahksh,
far up the Oxus River, on a streak of lightning?
Lightning is not guidance.
Lightning simply tells the clouds to weep.
Cry a little. The streak-lightning of our minds
comes so that we'll weep and long for our real lives.
A child's intellect says, "I should go to school."
But that intellect cannot teach itself.
A sick person's mind says, "Go to the doctor."
but that doesn't cure the patient.
Some devils were sneaking up close to heaven
trying to hear the secrets, when a voice came,
"Get out of here. Go to the world. Listen
to the prophets!" Enter the house through the door.
It's not a long way. You are empty reeds,
but you can become sugarcane again,
if you'll listen to the guide.
When a handful of dirt was taken from the hoofprint
of Gabriel's horse and thrown inside the golden calf,
the calf lowed! That's what the guide can do
for you. The guide can make you live.
The guide will take your falcon's hood off.
Love is the falconer, your king.
Be trained by that. Never say, or think,
"I am better than … whoever."
That's what Satan thought.
Sleep in the spirit tree's peaceful shade,
and never stick your head out from that green.
============
THE GUEST HOUSE
Rumi (Jeladluddin Balkhi)
This being human is a guest house
Every morning a new arrival
A joy, a depression, a meanness,
some momentary awareness comes
as an unexpected visitor
Welcome and entertain them all!
Even if they are a crowd of sorrows,
who violently sweep your house
empty of its furniture,
still, treat each guest honorably
He may be clearing you out
for some new delight
The dark thought, the shame, the malice
Meet them at the door laughing and invite them in
Be grateful for whatever comes
because each has been sent
as a guide from beyond
==========
IF TEN LAMPS ARE IN ONE PLACE
Rumi (Jeladluddin Balkhi)
If ten lamps are in one place,

each differs in form from another;

yet you can't distinguish whose radiance is whose
…
when you focus on the light.


In the field of spirit there is no division;

no individuals exist.

Sweet is the oneness of the Friend with His friends.


Catch hold of spirit.

Help this headstrong self disintegrate;

that beneath it you may discover unity,

like a buried treasure.
=========