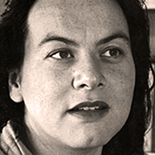 Muriel Rukeyser (December 15, 1913 – February 12, 1980) was an American poet and political activist, best known for her poems about equality, feminism, social justice, and Judaism. Kenneth Rexroth said that she was the greatest poet of her "exact generation".
One of her most powerful pieces was a group of poems entitled The Book of the Dead (1938), documenting the details of the Hawk's Nest incident, an industrial disaster in which hundreds of miners died of silicosis.
Her poem "To be a Jew in the Twentieth Century" (1944), on the theme of Judaism as a gift, was adopted by the American Reform and Reconstructionist movements for their prayer books, something Rukeyser said "astonished" her, as she had remained distant from Judaism throughout her early life.
YES
Muriel Rukeyser
It's like a tap-dance
Or a new pink dress,
A shit-naive feeling
Saying Yes.
Some say Good morning
Some say God bless—
Some say Possibly
Some say Yes.
Some say Never
Some say Unless
It's stupid and lovely
To rush into Yes.
What can it mean?
It's just like life,
One thing to you
One thing to your wife.
Some go local
Some go express
Some can't wait
To answer Yes.
Some complain
Of strain and stress
The answer may be
No for Yes.
Some like failure
Some like success
Some like Yes Yes
Yes Yes Yes.
Open your eyes,
Dream but don't guess.
Your biggest surprise
Comes after Yes.