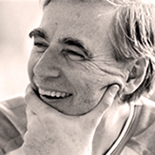 Fred McFeely Rogers (March 20, 1928 – February 27, 2003) was an American Educator, Presbyterian minister, songwriter, author, and television host.
Rogers was most famous for creating and hosting Mister Rogers' Neighborhood (1968–2001), which featured his gentle, soft-spoken personality and directness to his audiences.
Initially educated to be a minister, Rogers was displeased with the way television addressed children and made an effort to change this when he began to write for and perform on local Pittsburgh-area shows dedicated to youth. WQED developed his own show in 1968 and it was distributed nationwide by Eastern Educational Television Network. Over the course of three decades on television, Fred Rogers became an indelible American icon of children's entertainment and education, as well as a symbol of compassion, patience, and morality.He was also known for his advocacy of various public causes. His testimony before a lower court in favor of time shifting was cited in a U.S. Supreme Court decision on the Betamax case, and he gave now-famous testimony to a U.S. Senate committee, advocating government funding for children's television.
Rogers received the Presidential Medal of Freedom, some forty honorary degrees, and a Peabody Award. He was inducted into the Television Hall of Fame, was recognized by two Congressional resolutions, and was ranked No. 35 among TV Guide's Fifty Greatest TV Stars of All Time. Several buildings and artworks in Pennsylvania are dedicated to his memory, and the Smithsonian Institution displays one of his trademark sweaters as a "Treasure of American History".
IT'S A BEAUTIFUL DAY
Fred Rogers
It's a beautiful day in this neighborhood,
A beautiful day for a neighbor.
Would you be mine?
Could you be mine?…
It's a neighborly day in this beauty wood,
A neighborly day for a beauty.
Would you be mine?
Could you be mine?…
I've always wanted to have a neighbor just like you.
I've always wanted to live in a neighborhood with you.
So, let's make the most of this beautiful day.
Since we're together we might as well say:
Would you be mine?
Could you be mine?
Won't you be my neighbor?
Won't you please,
Won't you please?
Please won't you be my neighbor?
https://www.youtube.com/watch?v=zMUGJZrR9Jg