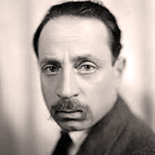 René Karl Wilhelm Johann Josef Maria Rilke (December 4, 1875 – December 29, 1926)—better known as Rainer Maria Rilke—was a Bohemian-Austrian poet and novelist.
Rilke is "widely recognized as one of the most lyrically intense German-language poets," writing in both verse and highly lyrical prose. Several critics have described Rilke's work as inherently "mystical". His writings include one novel, several collections of poetry, and several volumes of correspondence in which he invokes haunting images that focus on the difficulty of communion with the ineffable in an age of disbelief, solitude, and profound anxiety. These deeply existential themes tend to position him as a transitional figure between the traditional and the modernist writers.
While born in the Austro-Hungarian Empire, Rilke travelled extensively throughout Europe and North Africa, including Russia, Spain, Germany, France, Italy, and in his later years settled in Switzerland—settings that were key to the genesis and inspiration for many of his poems. While Rilke is most known for his contributions to German literature, over 400 poems were originally written in French and dedicated to the canton of Valais in Switzerland. Among English-language readers, his best-known works include the poetry collections Duino Elegies (Duineser Elegien) and Sonnets to Orpheus (Die Sonette an Orpheus), the semi-autobiographical novel The Notebooks of Malte Laurids Brigge (Die Aufzeichnungen des Malte Laurids Brigge), and a collection of ten letters that was published after his death under the title Letters to a Young Poet. In the later 20th century, his work has found new audiences through its use by New Age theologians and self-help authors, and through frequently quoting in television programs, books and motion pictures. In the United States, Rilke is one of the more popular, best-selling poets—along with 13th-century Sufi mystic Rumi (1207-1273), and 20th-century Lebanese-American poet Khalil Gibran (1883-1931).
A WALK
Rainer Maria Rilke
My eyes already touch the sunny hill,
going far ahead of the road I have begun.
So we are grasped by what we cannot grasp;
it has its inner light, even from a distance—
and changes us, even if we do not reach it,
into something else, which, hardly sensing it, we already are;
a gesture waves us on, answering our own wave…
but what we feel is the wind in our faces.
==========
BUDDHA IN GLORY
Rainer Maria Rilke
Center of all centers, core of cores,
almond self-enclosed, and growing sweet—
all this universe, to the furthest stars
all beyond them, is your flesh, your fruit.
Now you feel how nothing clings to you;
your vast shell reaches into endless space,
and there the rich, thick fluids rise and flow.
Illuminated in your infinite peace,
a billion stars go spinning through the night,
blazing high above your head.
But in you is the presence that
will be, when all the stars are dead.
==========
I AM MUCH TOO ALONE IN THIS WORLD, YET NOT ALONE
Rainer Maria Rilke
I am much too alone in this world, yet not alone
enough
to truly consecrate the hour.
I am much too small in this world, yet not small
enough
to be to you just object and thing,
dark and smart.
I want my free will and want it accompanying
the path which leads to action;
and want during times that beg questions,
where something is up,
to be among those in the know,
or else be alone.
I want to mirror your image to its fullest perfection,
never be blind or too old
to uphold your weighty wavering reflection.
I want to unfold.
Nowhere I wish to stay crooked, bent;
for there I would be dishonest, untrue.
I want my conscience to be
true before you;
want to describe myself like a picture I observed
for a long time, one close up,
like a new word I learned and embraced,
like the everday jug,
like my mother's face,
like a ship that carried me along
through the deadliest storm.
=========
PRAISE
Rainer Maria Rilke
Tell us, O poet, what do you do?—I praise
But those dark, deadly devastating ways,
How do you bear them, suffer them?—I praise.
And the Nameless, beyond guess or gaze,
How can you call it, conjure it?—I praise.
And whence your right, in every kind of maze
In every mask, to remain true?—I praise.
And that the mildest and the wildest ways
Know you like star and storm?—Because I praise.