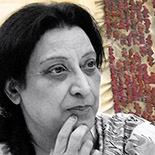 Fehmida Riaz (born July 28, 1946) is a Urdu writer, poet, and feminist of Pakistan.
She is author of Godaavari, Khatt-e Marmuz, and Khana e Aab O Gil, the first translation of the Masnavi of Maulana Jalaluddin Rumi from Farsi into Urdu. She has also translated the works of Shah Abdul Latif Bhitai and Shaikh Ayaz from Sindhi to Urdu.
DEEP KISS
Fehmidah Riaz
Deep myrrh-scented kiss,
deep with the tongue, suffused
with the musky perfume
of the wine of love: I'm reeling
with intoxication, languid
to the point of numbness,
yet with a mind so roused
an eyes flies open
in every cell.
And you! Sucking my breath,
my life, from its deepest,
most ancient abode.
Kiss.
Wet, warm, dark.
Pitch black!
Like a moonless night,
when rain comes flooding in.
A glint of runaway time
fleeing in the wilderness of my soul
seems to be drawing closer.
I sway across a shadowy bridge.
It's about to end, I think,
somewhere ahead,
there is light.