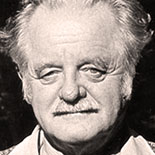 Kenneth Rexroth (December 22, 1905 – June 6, 1982) was an American poet, translator and critical essayist.
Rexroth is regarded as a central figure in the San Francisco Renaissance, and paved the groundwork for the movement. Although he did not consider himself to be a Beat poet, and disliked the association, he was dubbed the "Father of the Beats" by Time. He was among the first poets in the United States to explore traditional Japanese poetic forms such as haiku.
PROUST'S MADELEINE
Kenneth Rexroth
Somebody has given my
Baby daughter a box of
Old poker chips to play with.
Today she hands me one while
I am sitting with my tired
Brain at my desk. It is red.
On it is a picture of
An elk's head and the letters
B.P.O.E.—a chip from
A small town Elks' Club. I flip
It idly in the air and
Catch it and do a coin trick
To amuse my little girl.
Suddenly everything slips aside.
I see my father
Doing the very same thing,
Whistling "Beautiful Dreamer,"
His breath smelling richly
Of whiskey and cigars. I can
Hear him coming home drunk
From the Elks' Club in Elkhart
Indiana, bumping the
Chairs in the dark. I can see
Him dying of cirrhosis
Of the liver and stomach
Ulcers and pneumonia,
Or, as he said on his deathbed, of
Crooked cards and straight whiskey,
Slow horses and fast women.
========
RUNAWAY
Kenneth Rexroth
There are sparkles of rain on the bright
Hair over your forehead;
Your eyes are wet and your lips
Wet and cold, your cheek rigid with cold.
Why have you stayed
Away so long, why have you only
Come to me late at night
After walking for hours in wind and rain?
Take off your dress and stockings;
Sit in the deep chair before the fire.
I will warm your feet in my hands;
I will warm your breasts and thighs with kisses.
I wish I could build a fire
In you that would never go out.
I wish I could be sure that deep in you
Was a magnet to draw you always home.