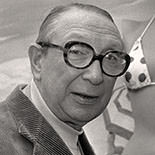 Louis Réard (1897 – September 16, 1984) was a French automobile engineer and clothes designer. He is best known for launching a two-piece swimsuit in 1946, which he called the bikini.
Réard was a mechanical engineer who had taken over his mother's lingerie business in about 1940 near Les Folies Bergères in Paris and became a clothes designer. While on St. Tropez beaches, he noticed women rolling up the edges of their swimsuits to get a better tan, which inspired him to design a swimsuit with the midriff exposed.
In May 1946, Jacques Heim produced a two-piece swimsuit that he named the "Atome," which he advertised as the world's "smallest bathing suit". The bottom of Heim's swimsuit was just large enough to cover the wearer's navel. To promote his new design, Heim hired skywriters to fly above the Mediterranean resort advertising the Atome as "the world's smallest bathing suit."
Réard quickly produced his own swimsuit design which was a string bikini consisting of four triangles made from only 30 square inches (194 cm2) of fabric printed with a newspaper pattern. When Réard sought a model to wear his design at its debut presentation, none of the usual models would wear the suit, so he hired 19-year-old nude dancer Micheline Bernardini from the Casino de Paris to model it. He introduced his new swimsuit, which he named the bikini, to the media and public in Paris on 5 July 1946 at Piscine Molitor, a popular public pool in Paris at the time. Not to be outdone by Heim, Réard hired his own skywriters to fly over the French Riviera advertising his design as "smaller than the smallest bathing suit in the world."
Two piece swimsuits had been available for at least since the 1930s, but Réard's bikini was controversial because for the first time the wearer's navel was exposed.
The bikini was a hit, especially among men, and Bernardini received some 50,000 fan letters. Heim's design was the first worn on the beach, but the genre of clothing was given its name by Réard. Réard's business soared, and in advertisements he kept the bikini mystique alive by declaring that a two-piece suit wasn't a genuine bikini "unless it could be pulled through a wedding ring."
As a further booster for sales, Réard commissioned renowned carbody specialist Chapron to build an extravagant "road yacht" by converting a Packard V8 car into a mock luxury cabin cruiser complete with cockpit, portholes, anchor, signal mast and other nautical regalia. The car (not an amphibian) went on advertising parades and followed the Tour de France cycliste in the early 50's, with a crew of bikini clad girls, causing quite a sensation in period parochial France.