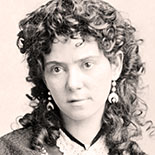 Lavinia Ellen Ream Hoxie (September 25, 1847 – January 12, 1914) was an American sculptor. Her most famous work was the statue of Abraham Lincoln in the U.S. Capitol rotunda.
In 1861, her family moved to Washington, D.C.. Vinnie Ream was one of the first women to be employed by the federal government, as a clerk in the dead letter office of the United States Post Office from 1862–66 during the American Civil War. She sang at the E Street Baptist Church, and for the wounded at Washington, D.C. hospitals. She collected materials for the Grand Sanitary Commission.
In 1863, James S. Rollins introduced her to Clark Mills. In 1864, President Lincoln agreed to model for her in the morning for five months.
Vinnie Ream was the first and youngest female artist to receive a commission from the United States government for a statue. She was awarded the commission for the full-size Carrara marble statue of Lincoln by a vote of Congress on July 28, 1866, when she was 18 years old. She worked in a studio in Room A, of the basement of the Capitol. In 1868, she traveled to Wisconsin, to gain a commission, unsuccessfully. Senator Edmund G. Ross boarded with her family, during the Impeachment of Andrew Johnson. She traveled to Paris, Munich, Florence, then living in Rome, to produce a finished marble figure, from the plaster model. She studied with Leon Bonnat in Paris. She made busts of Gustave Dore, Pere Hyacynthe, Franz Liszt, and Giacomo Antonelli. Her studio was a 45 Via de San Basile. She met Georg Brandes.
When the statue was complete, she returned to Washington. On January 25, 1871, her white marble statue of President Abraham Lincoln was unveiled in the United States Capitol rotunda. She was only 23 years old. She opened a studio at 704 Broadway. In 1871, she exhibited at the American Institution Fair.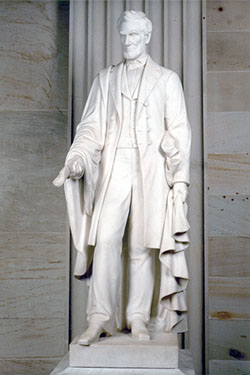 She returned to Washington, and opened a studio and salon at 235 Pennsylvania Avenue. She was unsuccessful in her entry in the Thomas statue competition. In 1875, George Armstrong Custer sat for a portrait bust. In 1876, she exhibited at the Centennial Exposition. In November 1877, she produced a model for a Lee statue in Richmond. After lobbying William Tecumseh Sherman, and Mrs. Farragut, she won a competition to sculpt, Admiral David G. Farragut located at Farragut Square, Washington, D.C., which was unveiled on May 28, 1878. It was cast in the Washington Navy Yard.
Ream designed the first free-standing statue of a Native American, Sequoyah to be placed in Statuary Hall at the Capitol.
Ream married Richard L. Hoxie, of the U.S. Army Corps of Engineers on May 28, 1878. They had one son. She died on January 12, 1914. Vinnie Ream Hoxie and her husband are buried in section 3 of Arlington National Cemetery, marked by her statue Sappho.