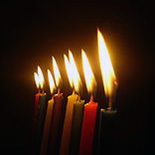 Philip M. Raskin (December 24, 1880 – February 6, 1944) Russian born poet, received his education in secular studies and Hebrew studies in Russia, Switzerland, and England before working as a staff member of the Health Department of the City of Leeds in Yorkshire, England. In 1914.
Raskin published his first poetry collection, Songs of a Jew (George Routledge & Sons), and the following year, he immigrated to the United States. Raskin authored several more volumes of poetry in English, Hebrew, and Yiddish in both England and America, and in 1927, he edited and introduced Anthology of Modern Jewish Poetry (Behrman's Jewish Book Shop, 1927).
THE MIRACLE
Philip M. Raskin
The Rabbi tells his old, old tale,
The pupils seated round.
"…And thus, my boys, no holy oil
In the Temple could be found.
The heathens left no oil to light
The Lord's eternal lamp;
At last one jar, one single jar,
Was found with the high priest's stamp.
Its oil could only last one day—
But God hath wondrous ways;
For lo! a miracle occurred:
It burned for eight whole days."
The tale was ended, but the boys,
All open-eyed and dumb,
Sat listening still, as though aware
Of stranger things to come.
Just wait, my boys, permit me, pray,
The liberty to take;
Your Rabbi—may he pardon me—
Has made a slight mistake.