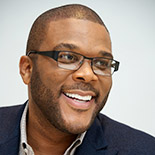 Tyler Perry (born Emmitt Perry Jr.; September 13, 1969) is an American actor, director, screenwriter, playwright, producer, author, and songwriter, specializing in the gospel genre.
Perry wrote and produced many stage plays during the 1990s and early 2000s. In 2011, Forbes named him the highest paid man in entertainment; he earned $130 million between May 2010 and 2011.
Perry is known for both creating and performing as the Madea character, a tough elderly woman. Perry also creates films, some produced as live recordings of stage plays, and others professionally filmed using full sets and locations with full editing. Perry is estimated to have earned around $75 million by 2008. Many of Perry's stage-play films have been subsequently adapted as professional films.
Perry has also created several television shows, his most successful of which is Tyler Perry's House of Payne, a show that ran for eight seasons on TBS from June 21, 2006, to August 10, 2012.
On October 2, 2012, Perry struck an exclusive multi-year partnership with Oprah Winfrey and her Oprah Winfrey Network. The partnership was largely for the purposes of bringing scripted television to the OWN network, Perry having had previous success in this department. Perry has created multiple scripted series for the network, the most successful being The Haves and the Have Nots. As of 2014, The Haves and the Have Nots has given OWN its highest ratings to date. The series has also been critically acclaimed as being "one of OWN's biggest success stories with its weekly dose of soapy fun, filled with the typical betrayals, affairs, manipulations and a bitch slap or two."