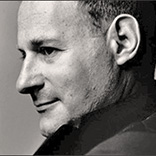 Irving Penn (June 16, 1917 – October 7, 2009) was an American photographer known for his fashion photography, portraits, and still life.
Penn's career included work at Vogue magazine, and independent advertising work for clients including Issey Miyake, and Clinique. His work has been exhibited internationally, and continues to inform the art of photography.
Sensitive people faced with the prospect of a camera portrait put on a face they think is one they would like to show the world. …Very often what lies behind the facade is rare and more wonderful than the subject knows or dares to believe. —Irving Penn, 1975.