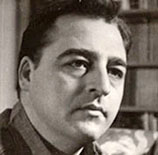 Kenneth Patchen (December 13, 1911 – January 8, 1972) was an American poet and novelist.
Patchen experimented with different forms of writing and incorporated painting, drawing, and jazz music into his works, which were often compared with those of William Blake and Walt Whitman.Patchen's biographer wrote that he "developed in his fabulous fables, love poems, and picture poems a deep yet modern mythology that conveys a sense of compassionate wonder amidst the world's violence." Along with his friend and peer Kenneth Rexroth, he was a central influence over the San Francisco Renaissance and the Beat Generation.
AS WE ARE SO WONDERFULLY DONE WITH EACH OTHER
Kenneth Patchen
As we are so wonderfully done with each other
We can walk into our separate sleep
On floors of music where the milkwhite cloak of childhood lies
Oh my love, my golden lark, my soft long doll
Your lips have splashed my house with print of flowers
My hands are crooked where they spilled over your dear curving
It is good to be weary from that brilliant work
It is being God to feel your breathing under me
A waterglass on the bureau fills with morning…
Don't let anyone in to wake us
========
THE CLOTH OF THE TEMPEST
Kenneth Patchen
These of living emanate a formidable light,
Which is equal to death, and when used
Gives increase eternally.
What fortifies in separate thought
Is not drawn by wind or by man defiled.
So whispers the parable of doubleness.
As it is necessary not to submit
To power which weakens the hidden forms;
It is extraordinarily more essential
Not to deny welcome to these originating forces
When they gather within our heat
To give us habitation.
The one life must be attempted with the other,
That we may embark upon the fiery work
For which we were certainly made.
What has been separated from the mother,
Must again be joined; for we were born of spirit,
And to spirit all mortal things return,
As it is necessary in the method of earth.
So sings the parable of singleness.
My comforter does not conceal his face;
I have seen appearances that were not marshalled
By sleep.
Perhaps I am to be stationed
At the nets which move through this completing sea.
Or I have hunting on my sign.
Yet the ground is visible,
The center of our seeing. (The houses rest
Like sentinels on this hawking star.
Two women are bathing near a trestle;
Their bodies dress the world in golden birds;
The skin of their throats is a dancing flute. . .
How alter or change? How properly
Find an exact equation? What is flying
Anywhere that is more essential to our quest?
Even the lake. . . boat walking on its blue streets;
Organ of thunder muttering in the sky. . . A tiger
Standing on the edge of a plowed field. . .
What is necessary? What is inseparable to know?
The children seek silvery-pretty caves. . .
What are we to teach?)
The distance is not great
To worlds of magnificent joy or nowhere.
===========
MAN IS NOT TO DIRECT
Kenneth Patchen
Man is not to direct or to be directed anymore than a tree or a cloud or a stone
Man is not to rule or be ruled anymore than a faith or a truth or a love
Man is not to doubt or to be doubted anymore than a wave or a seed or a fire
There is no problem in living which life hasn't answered to its own need
And we cannot direct, rule, or doubt
what is beyond our highest ability to understand
we can only be humble before it
we can only worship ourselves because we are a part of it
The eye in the leaf is watching out of our fingers
The ear in the stone is listening through our voices
The thought of the wave is thinking in our dreams
The faith of the seed is building with our deaths