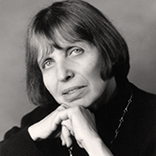 Linda Pastan (born May 27, 1932) is an American poet of Jewish background.
From 1991–1995 she was Poet Laureate of Maryland. She is known for writing short poems that address topics like family life, domesticity, motherhood, the female experience, aging, death, loss and the fear of loss, as well as the fragility of life and relationships.
Pastan has published at least 12 books of poetry and a number of essays. Her awards include the Dylan Thomas Award, a Pushcart Prize, the Alice Fay di Castagnola Award (Poetry Society of America), the Bess Hokin Prize (Poetry Magazine), the 1986 Maurice English Poetry Award (for A Fraction of Darkness), the Charity Randall Citation of the International Poetry Forum, and the 2003 Ruth Lilly Poetry Prize. She also received the Radcliffe College Distinguished Alumnae Award.
Two of her collections of poems were nominated for the National Book Award and one for the Los Angeles Times Book Prize.
DEPARTURES
Linda Pastan
They seemed to all take off
at once: Aunt Grace
whose kidneys closed shop;
Cousin Rose who fed sugar
to diabetes;
my grandmother's friend
who postponed going so long
we thought she'd stay.
It was like the summer years ago
when they all set out on trains
and ships, wearing hats and veils
and the proper gloves,
because everybody was going
someplace that year,
and they didn't want
to be left behind.
=========
THERE ARE POEMS
Linda Pastan
There are poems
that are never written,
that simply move across
the mind
like skywriting
on a still day:
slowly the first word
drifts west,
the last letters dissolve
on the tongue,
and what is left
is the pure blue
of insight, without cloud
or comfort.