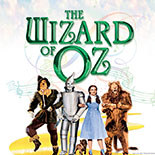 The Wizard of Oz is a 1939 American musical fantasy film produced by Metro-Goldwyn-Mayer, and the most well-known and commercial adaptation based on the 1900 novel The Wonderful Wizard of Oz by L. Frank Baum. The film stars Judy Garland; Terry the dog, billed as Toto; Ray Bolger, Jack Haley, Bert Lahr, Frank Morgan, Billie Burke, Margaret Hamilton, with Charley Grapewin and Clara Blandick, and the Singer Midgets as the Munchkins, with Pat Walshe as leader of the flying monkeys. Notable for its use of Technicolor, fantasy storytelling, musical score and unusual characters, over the years it has become one of the best known of all films and part of American popular culture. It also featured what may be the most elaborate use of character make-ups and special effects in a film up to that time.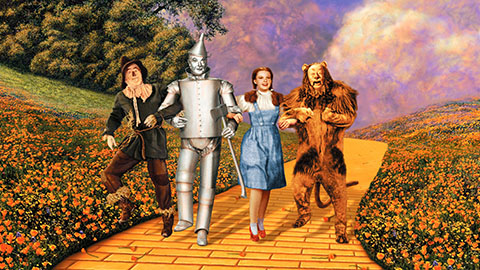 Although the film received largely positive reviews, it was not a box office success on its initial release, earning only $3,017,000 on a $2,777,000 budget. The film was MGM's most expensive production up to that time, but its initial release failed to recoup the studio's investment. Subsequent re-releases made up for that, however. It was nominated for six Academy Awards, including Best Picture. It lost that award to Gone with the Wind, but it won two others, including Best Original Song for "Over the Rainbow." The song was ranked first in both the AFI's 100 Years…100 Songs list and the Recording Industry Association of America's "365 Songs of the Century" list.
Television broadcasts of the film began in 1956, re-introducing the film to the public and eventually becoming an annual tradition, making it one of the most famous films ever made. The film was named the most viewed motion picture on television syndication in history by the Library of Congress (who also preserved the film to the National Film Registry in its inaugural year (1989) for being "culturally, historically, and aesthetically significant"), is often ranked among the Top 10 Best Movies of All Time in various critics' and popular polls, and is the source of many memorable quotes referenced in modern popular culture. It was directed primarily by Victor Fleming. Noel Langley, Florence Ryerson and Edgar Allan Woolf received credit for the screenplay, but there were uncredited contributions by others. The lyrics for the songs were written by Edgar "Yip" Harburg, and the music for the songs was composed by Harold Arlen. The incidental music, based largely on the songs, was composed by Herbert Stothart, with borrowings from classical composers.