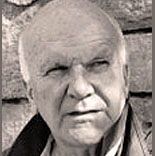 Edward Charles "Ned" O'Gorman (September 26, 1929 – March 7, 2014) was an American poet and educator.

I'VE TOLD YOU
Ned O'Gorman
I've told you again and again
how the word began.
How the
elephant grew, that fish learned
the sea was best, why apes walked.
How calamity befell Eve.
How Jehovah watched like a club-footed
girl stalking a swan.
I've told you
that the middle of words are fixed
to a kite and are reachless;
though alternate and charged
the poles are still, that color
melted in flame yields nothing.
With a slow voice I've told you
love betters love, that alphabet
is Adam trying his ribs for a woman.
I've told you the history of my history,
the wild Arabia of my brow, your map
to reconnoitre as you will, teeming
with the uncalamity of your boyhood.
==========
VEGETABLE-LIFE
Ned Gorman
To come upon her you must journey through the rains,
and sleep through a night of fish smells;
there must be a dead man in a hot room,
there must be a basket of figs and plums on the pier,
there must be no new ship in the harbor,
there must be the sound of flowers falling upon flowers,
there must be no children swimming in the salt pools.
Where the Flamboyant spills into the vulcan dust,
where the wild pig chews up the door frames,
where the leper kneads his bones,
where the sun is stuffed with guns,
where the water flows like honey from the tap,
where black flies swell in the gecko's translucent belly,
where these are, there is
Vegetable-Life: The Sultana of the Vine,
The Goddess of the Harvest Gone Bad, The Spectrum Swallower.