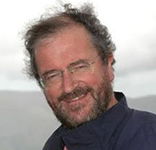 John O'Donohue (January 1, 1956 – January 4, 2008) was an Irish poet, author, priest, and Hegelian philosopher. He was a native Irish speaker, and as an author is best known for popularizing Celtic spirituality.

A MORNING OFFERING
John O'Donohue
I bless the night that nourished my heart
To set the ghosts of longing free
Into the flow and figure of dream
That went to harvest from the dark
Bread for the hunger no one sees.
All that is eternal in me
Welcome the wonder of this day,
The field of brightness it creates
Offering time for each thing
To arise and illuminate.
I place on the altar of dawn:
The quiet loyalty of breath,
The tent of thought where I shelter,
Wave of desire I am shore to
And all beauty drawn to the eye.
May my mind come alive today
To the invisible geography
That invites me to new frontiers,
To break the dead shell of yesterdays,
To risk being disturbed and changed.
May I have the courage today
To live the life that I would love,
To postpone my dream no longer
But do at last what I came here for
And waste my heart on fear no more.
=========
FOR LIGHT
John O'Donohue
Light cannot see inside things.
That is what the dark is for:
Minding the interior,
Nurturing the draw of growth
Through places where death
In its own way turns into life.
In the glare of neon times,
Let our eyes not be worn
By surfaces that shine
With hunger made attractive.
That our thoughts may be true light,
Finding their way into words
Which have the weight of shadow
To hold the layers of truth.
That we never place our trust
In minds claimed by empty light,
Where one-sided certainties
Are driven by false desire.
When we look into the heart,
May our eyes have the kindness
And reverence of candlelight.
That the searching of our minds
Be equal to the oblique
Crevices and corners where
The mystery continues to dwell,
Glimmering in fugitive light.
When we are confined inside
The dark house of suffering
That moonlight might find a window.
When we become false and lost
That the severe noon-light
Would cast our shadow clear.
When we love, that dawn-light
Would lighten our feet
Upon the waters.
As we grow old, that twilight
Would illuminate treasure
In the fields of memory.
And when we come to search for God,
Let us first be robed in night,
Put on the mind of morning
To feel the rush of light
Spread slowly inside
The color and stillness
Of a found word.