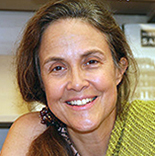 Naomi Shihab Nye (born March 12, 1952) is a poet, songwriter, and novelist.
Nye was born to a Palestinian father and American mother. Although she regards herself as a "wandering poet", she refers to San Antonio as her home. She visited her grandmother in Palestine when she was 14, which gave her a whole new perspective on poetry.


BURNING THE OLD YEAR
Naomi Shihab Nye
Letters swallow themselves in seconds.
Notes friends tied to the doorknob,
transparent scarlet paper,
sizzle like moth wings,
marry the air.
So much of any year is flammable,
lists of vegetables, partial poems.
Orange swirling flame of days,
so little is a stone.
Where there was something and suddenly isn't,
an absence shouts, celebrates, leaves a space.
I begin again with the smallest numbers.
Quick dance, shuffle of losses and leaves,
only the things I didn't do
crackle after the blazing dies.
========
MAKING A FIST
Naomi Shihab Nye
For the first time, on the road north of Tampico,
I felt the life sliding out of me,
a drum in the desert, harder and harder to hear.
I was seven, I lay in the car
watching palm trees swirl a sickening pattern past the glass.
My stomach was a melon split wide inside my skin.
'How do you know if you are going to die?'
I begged my mother.
We had been traveling for days.
With strange confidence she answered,
'When you can no longer make a fist.'
Years later I smile to think of that journey,
the borders we must cross separately,
stamped with our unanswerable woes.
I who did not die, who am still living,
still lying in the backseat behind all my questions,
clenching and opening one small hand.
========
KINDNESS
Naomi Shihab Nye
Before you know what kindness really is
you must lose things,
feel the future dissolve in a moment
like salt in a weakened broth.
What you held in your hand,
what you counted and carefully saved,
all this must go so you know
how desolate the landscape can be
between the regions of kindness.
How you ride and ride
thinking the bus will never stop,
the passengers eating maize and chicken
will stare out the window forever.
Before you learn the tender gravity of kindness,
you must travel where the Indian in a white poncho
lies dead by the side of the road.
You must see how this could be you,
how he too was someone
who journeyed through the night with plans
and the simple breath that kept him alive.
Before you know kindness as the deepest thing inside,
you must know sorrow as the other deepest thing.
You must wake up with sorrow.
You must speak to it till your voice
catches the thread of all sorrows
and you see the size of the cloth.
Then it is only kindness that makes sense anymore,
only kindness that ties your shoes
and sends you out into the day to mail letters and purchase bread,
only kindness that raises its head
from the crowd of the world to say
it is I you have been looking for,
and then goes with you every where
like a shadow or a friend.
==========
RED BROCADE
Naomi Shihab Nye
The Arabs used to say,
When a stranger appears at your door,
feed him for three days
before asking who he is,
where he's come from,
where he's headed.
That way, he'll have strength
enough to answer.
Or, by then you'll be
such good friends
you don't care.
Let's go back to that.
Rice? Pine nuts?
Here, take the red brocade pillow.
My child will serve water
to your horse.
No, I was not busy when you came!
I was not preparing to be busy.
That's the armor everyone put on
to pretend they had a purpose
in the world.
I refuse to be claimed.
Your plate is waiting.
We will snip fresh mint
into your tea.