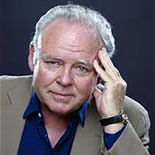 Carroll O'Connor (born John Carroll O'Connor; August 2, 1924 – June 21, 2001) was an American actor, producer and director whose television career spanned four decades.
A life-member of The Actors Studio, O'Connor first attracted attention as Major General Colt in the 1970 movie Kelly's Heroes. The following year he found fame as the lovable bigoted working man Archie Bunker, the main character in the 1970s CBS television sitcoms All in the Family (1971 to 1979) and Archie Bunker's Place (1979 to 1983).
O'Connor later starred in the NBC/CBS television crime drama In the Heat of the Night from 1988 to 1995, where he played the role of southern Police Chief William (Bill) Gillespie. At the end of his career in the late 1990s, he played the father of Jamie Buchman (Helen Hunt) on Mad About You.
In 1996, O'Connor was ranked #38 on TV Guide's 50 Greatest TV Stars of All Time.
In 1962, while he was in Rome, filming Cleopatra, O'Connor and his wife adopted a six-day-old boy, naming him Hugh after O'Connor's brother who had died a year earlier. 17-year-old Hugh later worked as a courier on the set of Archie Bunker's Place. O'Connor would eventually create the role of Officer Lonnie Jamison on In the Heat of the Night for his son.
In 1995, O'Connor's son Hugh committed suicide after a long battle with drug addiction. Following his son's death, O'Connor appeared in public service announcements for Partnership for a Drug Free America and spent the rest of his life working to raise awareness about drug addiction. O'Connor also successfully lobbied to get the State of California to pass legislation allowing family members of an addicted person or anyone injured by a drug dealer's actions, including employers, to sue for reimbursement for medical treatment and rehabilitation costs and other economic and non-economic damages. The law, known as the Drug Dealer Civil Liability Act in California, went into effect in 1997. It is also referred to as The Hugh O'Connor Memorial Law. The act is based on the Model Drug Dealer Liability Act authored in 1992 by then Hawaii U.S. Attorney Daniel Bent. The Model Drug Dealer Liability Act has been passed in 17 states and the Virgin Islands. A website devoted to the Act can be found at: www.ModelDDLA.com. Cases have been brought under the Act in California, Illinois, Utah and other states.
His son's suicide inspired O'Connor to start a crusade against the man who sold the drugs to Hugh. He called Harry Perzigian "a partner in murder" and a "sleazeball". Perzigian filed a defamation lawsuit against the actor. In 1997, a California jury threw out the case. In an interview on CNN's Larry King Live soon after the verdict, O'Connor said he would never be able to put his son's death behind him. "I can't forget it. There isn't a day that I don't think of him and want him back and miss him, and I'll feel that way until I'm not here anymore", he said.