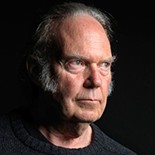 Neil Percival Young (born November 12, 1945) is a Canadian singer-songwriter.
Young began performing in a group covering Shadows instrumentals in Canada in 1960, before moving to California in 1966, where he co-founded the band Buffalo Springfield along with Stephen Stills and Richie Furay, later joining Crosby, Stills & Nash as a fourth member in 1969.
He forged a successful and acclaimed solo career, releasing his first album in 1968; his career has since spanned over 40 years and 35 studio albums, with a continual and uncompromising exploration of musical styles.The Rock and Roll Hall of Fame website describes Young as "one of rock and roll's greatest songwriters and performers" He has been inducted into the Hall of Fame twice: first as a solo artist in 1995, and second as a member of Buffalo Springfield in 1997.
Young is an outspoken advocate for environmental issues and the welfare of small farmers, having co-founded in 1985 the benefit concert Farm Aid. In 1986, Young helped found The Bridge School,an educational organization for children with severe verbal and physical disabilities, and its annual supporting Bridge School Benefit concerts, together with his wife Pegi Young. Young has three children: sons Zeke (born during his relationship with actress Carrie Snodgress) and Ben, who were diagnosed with cerebral palsy, and daughter Amber Jean who, like Young himself, has epilepsy. Young lives on his ranch in La Honda, California. Although he has lived in northern California since the 1970s and sings as frequently about U.S. themes and subjects as he does about his native country, he has retained his Canadian citizenship. On July 14, 2006, Young was awarded the Order of Manitoba,and on December 30, 2009, was made an Officer of the Order of Canada.
WHEN GOD MADE ME
Lyrics by Neil Young
Was he thinking about my country,
or the color of my skin?
Was he thinking about my religion,
and the way I worshiped him?
Did he create just me in his image,
or every living thing?
When God made me.
When God made me.
Was he planning only for believers,
or for those who just had faith?
Did he envision all wars
that were fought in his name?
Did he say there was only one way
to be close to him?
When God made me.
When God made me.
Did he give me the gift of love
to say who I could choose?
When God made me.
When God made me.
When God made me.
Did he give me the gift of voice
so some could silence me?
Did he give me the gift of vision
not knowing what I might see?
Did he give me the gift of compassion
to help my fellow man?
When God made me.
When God made me.
When God made me.