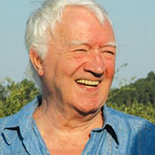 Adrian Mitchell (October 24, 1932 – December 20, 2008) was an English poet, novelist and playwright. A former journalist, he became a noted figure on the British Left. For almost half a century he was the foremost poet of the country's anti-Bomb movement.
In a National Poetry Day poll in 2005 his poem "Human Beings" was voted the one most people would like to see launched into space. Mitchell was for some years poetry editor of the New Statesman, and was the first to publish an interview with the Beatles. He also wrote librettos. The Poetry Archive identified his creative yield as hugely prolific.
The Times said that Mitchell's had been a "forthright voice often laced with tenderness." His poems on such topics as nuclear war, Vietnam, prisons and racism had become "part of the folklore of the Left. His work was often read and sung at demonstrations and rallies."
A PUPPY CALLED PUBERTY
Adrian Mitchell
It was like keeping a puppy in your underpants
A secret puppy you weren't allowed to show to anyone
Not even your best friend or your worst enemy
You wanted to pat him stroke him cuddle him
All the time but you weren't supposed to touch him
He only slept for five minutes at a time
Then he'd suddenly perk up his head
In the middle of school medical inspection
And always on bus rides
So you had to climb down from the upper deck
All bent double to smuggle the puppy off the bus
Without the buxom conductress spotting
Your wicked and ticketless stowaway.
Jumping up, wet-nosed, eagerly wagging—
He only stopped being a nuisance
When you were alone together
Pretending to be doing your homework
But really gazing at each other
Through hot and hazy daydreams
Of those beautiful schoolgirls on the bus
With kittens bouncing in their sweaters.
========
BACK IN THE PLAYGROUND BLUES
Adrian Mitchell
I dreamed I was back in the playground, I was about four feet high
Yes I dreamed I was back in the playground, standing about four feet high
Well the playground was three miles long and the playground was five miles wide
It was broken black tarmac with a high wire fence all around
Broken black dusty tarmac with a high fence running all around
And it had a special name to it, they called it The Killing Ground
Got a mother and a father they're one thousand years away
The rulers of the Killing Ground are coming out to play
Everybody thinking: 'Who they going to play with today?'
Well you get it for being Jewish
And you get it for being black
You get it for being chicken
And you get it for fighting back
You get it for being big and fat
Get it for being small
Oh those who get it get it and get it
For any damn thing at all
Sometimes they take a beetle, tear off its six legs one by one
Beetle on its black back, rocking in the lunchtime sun
But a beetle can't beg for mercy, a beetle's not half the fun
I heard a deep voice talking, it had that iceberg sound
'It prepares them for Life'—but I have never found
Any place in my life worse than The Killing Ground.