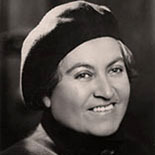 Gabriela Mistral (April 7, 1889 – January 10, 1957) was the pseudonym of Lucila Godoy Alcayaga, a Chilean poet-diplomat, educator and feminist.
Mistral was the first Latin American (and, so far, the only Latin American woman) to win the Nobel Prize in Literature, in 1945. Some central themes in her poems are nature, betrayal, love, a mother's love, sorrow and recovery, travel, and Latin American identity as formed from a mixture of Native American and European influences. Her portrait also appears on the 5,000 Chilean peso banknote.
THOSE WHO DO NOT DANCE
Gabriela Mistral
An invalid girl asked,
"How do I dance?"
We told her:
let your heart dance.
Then the crippled girl asked,
"How do I sing?"
We told her:
let your heart sing.
A poor dead thistle asked,
"How do I dance?"
We told it,
let your heart fly in the wind.
God asked from on high,
"How do I come down from this blueness?"
We told him:
come dance with us in the light.
The entire valley is dancing
in a chorus under the sun,
The hearts of those absent
return to ashes.