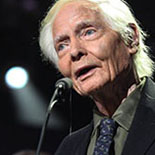 William Stanley Merwin (born September 30, 1927) is an American poet, credited with over fifty books of poetry, translation and prose.
During the 1960s anti-war movement, Merwin's unique craft was thematically characterized by indirect, unpunctuated narration. In the 1980s and 1990s, Merwin's writing influence derived from his interest in Buddhist philosophy and deep ecology. Residing in Hawaii, he writes prolifically and is dedicated to the restoration of the islands' rainforests.
Merwin has received many honors, including the Pulitzer Prize for Poetry (in both 1971 and 2009) and the Tanning Prize, one of the highest honors bestowed by the Academy of American Poets, as well as the Golden Wreath of the Struga Poetry Evenings. In 2010, the Library of Congress named Merwin the seventeenth United States Poet Laureate.
A DOOR
William Stanley Merwin
This is a place where a door might be
here where I am standing
in the light outside all the walls
there would be a shadow here
all day long
and a door into it
where now there is me
and somebody would come and knock
on this air
long after I have gone
and there in front of me a life
would open
=======
HERE TOGETHER
These days I can see us clinging to each other
as we are swept along by the current
I am clinging to you to keep you from
being swept away and you are clinging to me
we see the shores blurring past as we hold
each other in the rushing current
the daylight rushes unheard far above us
how long will we be swept along in the daylight
how long will we cling together in the night
and where will it carry us together
=========
THANKS
William Stanley Merwin
Listen
with the night falling we are saying thank you
we are stopping on the bridges to bow for the railings
we are running out of the glass rooms
with our mouths full of food to look at the sky
and say thank you
we are standing by the water looking out
in different directions.
back from a series of hospitals back from a mugging
after funerals we are saying thank you
after the news of the dead
whether or not we knew them we are saying thank you
looking up from tables we are saying thank you
in a culture up to its chin in shame
living in the stench it has chosen we are saying thank you
over telephones we are saying thank you
in doorways and in the backs of cars and in elevators
remembering wars and the police at the back door
and the beatings on stairs we are saying thank you
in the banks that use us we are saying thank you
with the crooks in office with the rich and fashionable
unchanged we go on saying thank you thank you
with the animals dying around us
our lost feelings we are saying thank you
with the forests falling faster than the minutes
of our lives we are saying thank you
with the words going out like cells of a brain
with the cities growing over us like the earth
we are saying thank you faster and faster
with nobody listening we are saying thank you
we are saying thank you and waving
dark though it is