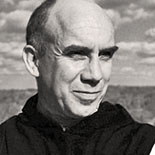 Thomas Merton (January 31, 1915 – December 10, 1968), was an Anglo-American Catholic writer and mystic.
A Trappist monk of the Abbey of Gethsemani, Kentucky, he was a poet, social activist, and student of comparative religion. In 1949, he was ordained to the priesthood and given the name Father Louis.
Merton wrote more than 70 books, mostly on spirituality, social justice and a quiet pacifism, as well as scores of essays and reviews, including his best-selling autobiography, The Seven Storey Mountain (1948), which sent scores of World War II veterans, students, and even teenagers flocking to monasteries across the US, and was also featured in National Review's list of the 100 best nonfiction books of the century. Merton was a keen proponent of interfaith understanding. He pioneered dialogue with prominent Asian spiritual figures, including the Dalai Lama, the Japanese writer D.T. Suzuki, and the Vietnamese monk Thich Nhat Hanh. Merton has also been the subject of several biographies.
AUBADE: LAKE ERIE
Thomas Merton

When sun, light handed, sows this Indian water
With a crop of cockles,
The vines arrange their tender shadows
In the sweet leafage of an artificial France.
Awake, in the frames of windows, innocent children,
Loving the blue, sprayed leaves of childish life,
Applaud the bearded corn, the bleeding grape,
And cry:
"Here is the hay-colored sun, our marvelous cousin,
Walking in the barley,
Turning the harrowed earth to growing bread,
And splicing the sweet, wounded vine.
Lift up your hitch-hiking heads
And no more fear the fever,
You fugitives, and sleepers in the fields,
Here is the hay-colored sun!"
And when their shining voices, clean as summer,
Play, like church bells over the field,
A hundred dusty Luthers rise from the dead, unheeding,
Search the horizon for the gap-toothed grin of factories,
And grope, in the green wheat,
Toward the wood winds of the western freight.
=========
WIND AND A BOBWHITE
Thomas Merton
Wind and a bobwhite
And the afternoon sun.
By ceasing to question the sun
I have become light,
Bird and wind.
My leaves sing.
I am earth, earth
All these lighted things
Grow from my heart.
A tall, spare pine
Stands like the initial of my first
Name when I had one.
When I had a spirit,
When I was on fire
When this valley was
Made out of fresh air
You spoke my name
In naming Your silence:
O sweet, irrational worship!
I am earth, earth
My heart's love
Bursts with hay and flowers.
I am a lake of blue air
In which my own appointed place
Field and valley
Stand reflected.
I am earth, earth
Out of my grass heart
Rises the bobwhite.
Out of my nameless weeds
His foolish worship.