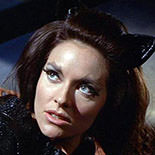 Lee Ann Meriwether (born May 27, 1935) is an American actress, former model, and the winner of the 1955 Miss America pageant.
She is perhaps best known for her role as Betty Jones, Buddy Ebsen's secretary and daughter-in-law in the long-running 1970s crime drama Barnaby Jones. The role earned her two Golden Globe Award nominations in 1975 and 1976, and an Emmy Award nomination in 1977.
She is also known for her role as John Schuck's long-haired wife, Lily Munster, in the 1980s sitcom The Munsters Today, as well as for her portrayal in 1966 of Catwoman in the film version of Batman and a co-starring role in science fiction television series, The Time Tunnel. Meriwether had a recurring role as Ruth Martin on the daytime soap opera All My Children until the end of the series in September 2011.
https://www.youtube.com/watch?v=5LqN0DF7FGU