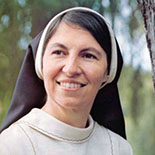 Janet Mead (born 1938), a Roman Catholic nun and is best known for recording a rock version of "The Lord's Prayer".
The surprise hit reached Number 3 on the Australian Singles Chart (Kent Music Report) in 1974 and Number 4 on the Billboard Hot 100 in the same year. The single earned her a Grammy Award nomination and Golden Gospel Award in 2004.
The Lord's Prayer is a central prayer in Christianity also commonly known as Our Father and in the Latin tongue as the Pater Noster. In the New Testament of the Christian Bible, it appears in two forms: in the Gospel of Matthew as part of the Sermon on the Mount, and in the Gospel of Luke, which records Jesus being approached by "one of his disciples" with a request to teach them "to pray as John taught his disciples." The prayer concludes with "deliver us from evil" in Matthew, and with "lead us not into temptation" in Luke. The first three of the seven petitions address God; the second four are prayers related to our needs and concerns.
The prayer as it appears in Matthew 6:9–13
Our Father in heaven,
hallowed be your name.
Your kingdom come,
your will be done,
on earth, as it is in heaven.
Give us this day our daily bread,
and forgive us our debts,
as we also have forgiven our debtors.
And lead us not into temptation,
but deliver us from evil.