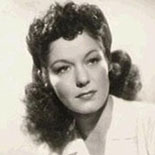 Dona Massin (born February 18, 1917 – May 26, 2001) was a film choreographer best known for her work on The Wizard of Oz. Dona Massin appeared in over 100 films throughout her career.
In 1939, at the age of 21, Massin was signed to production of The Wizard of Oz, where she worked as a choreographer assisting Bobby Connolly. The film took 6 months to complete.
Dona was the first to sing "Somewhere Over The Rainbow", and it was she who pushed for the song to be in the film. She also originated the skip that was performed down the yellow brick road.
In the film itself, Massin can be seen grooming the Lion in the scene at the beauty shop. Mervyn Leroy put her in that part to bring good luck to the film.