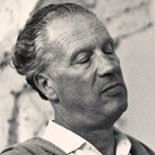 Marino Marini (February 27, 1901 – August 6, 1980) was an Italian sculptor.
Marini developed several themes in sculpture: equestrian, Pomonas (nudes), portraits, and circus figures. Marini is particularly famous for his series of stylized equestrian statues, which feature a man with outstretched arms on a horse.
The horse and rider theme evolved over time. It first appeared in 1936, as poised and formal figures. In 1940, the forms became more abstract, proportions changed. After the war, the horses are posed standing straining, and a rider with outstretched arms.