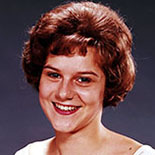 Peggy March (born Margaret Annemarie Battavio, March 8, 1948) is an American pop singer. She is primarily known for her 1963 million-selling song "I Will Follow Him".
She was discovered at age thirteen singing at her cousin's wedding and was introduced to the record producer partnership Hugo & Luigi. They gave her the nickname Little Peggy March because she was only 4 ft 9 tall, she was only 13, the record she did with them was "Little Me," and her birthday was in March.
On April 24, 1963, her single "I Will Follow Him" soared to number one on the U.S. charts. Recorded in early January 1963 and released January 22, March was only 14 at the time. March became the youngest female artist with a number one hit, at 15, in late April 1963, a record that still stands for the Billboard Hot 100. The recording also reached number one in Australia, New Zealand, South Africa, Japan, and Scandinavia. It was a translation of the French song "Chariot" recorded a year earlier by Petula Clark.
March's success also came with financial trouble. She was a minor and the Coogan Law prevented her parents from managing her money. The responsibility was placed on her manager, Russell Smith. It was discovered in 1966 that he had squandered the fortune away, leaving her with $500. Peggy graduated from Lansdale Catholic High School in 1966. She soon had a new manager, Arnie Harris, who later became her husband. They had one daughter, Sande, born in 1974.
I love him, I love him, I love him
And where he goes I'll follow, I'll follow, I'll follow
I will follow him, follow him wherever he may go
There isn't an ocean too deep
A mountain so high it can keep me away
I must follow him, ever since he touched my hand I knew
That near him I always must be
And nothing can keep him from me
He is my destiny
I love him, I love him, I love him
And where he goes I'll follow, I'll follow, I'll follow
He'll always be my true love, my true love, my true love
From now until forever, forever, forever
I will follow him, follow him wherever he may go
There isn't an ocean too deep
A mountain so high it can keep, keep me away
Away from my love
I love him, I love him, I love him
And where he goes I'll follow, I'll follow, I'll follow
He'll always be my true love, my true love, my true love
From now until forever, forever, forever
I will follow him, follow him wherever he may go
There isn't an ocean too deep
A mountain so high it can keep, keep me away
Away from my love
Do-do do-do-do do-do-do and where he goes
I'll follow, I'll follow, I'll follow
I know I'll always love him