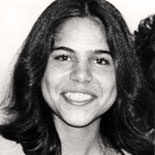 Mona Mahmudnizhad (September 10, 1965 – June 18, 1983) was an Iranian Bahá'í who, in 1983, together with nine other Bahá'í women, was sentenced to death and hanged in Shiraz, Iran because of her membership in the Bahá'í Faith.
The official charges ranged from "misleading children and youth" because she was teaching children who had been expelled from school for their beliefs and serving in an orphanage, to being a "Zionist" because the Bahá'í World Centre is located in Israel.
While Bahá'ís regularly faced persecution in Iran, the Islamic Revolution of 1979 refocused the persecution. At 7:30pm on October 23, 1982, four armed Revolutionary Guards, sent by the public prosecutor of Shiraz, entered the Mahmudnizhad household and ransacked the home in search of Bahá'í material. When they were finished, they took Mona and her father into custody. The two were blindfolded and taken to Seppah prison in Shiraz, where they were placed in separate quarters; Mahmudnizhad was detained in Seppah prison for a total of 38 days.
On November 29, 1982, she and five other Bahá'í women were transferred from Seppah prison to Adelabad prison, which was also in Shiraz. After some time in Abelabad, she was transferred to the Islamic Revolutionary Court where she was interrogated and then returned to prison. A few days later, she was once again taken from the prison and interrogated in front of an Islamic Revolutionary judge. After these series of interrogations which involved physical torture by being whipped on the soles of her feet with a cable, Mahmudnizhad was found guilty and sentenced to death by hanging. At the time of her sentencing, President of the United States Ronald Reagan, made a plea for clemency; despite this, the sentence of the 10 women was carried out on the night of June 18, 1983, at a nearby polo field.