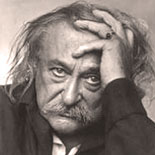 Jacques Lipchitz (August 22, 1891 – May 16, 1973) was a Cubist sculptor.
With the German occupation of France during World War II, and the deportation of Jews to the Nazi death camps, Jacques Lipchitz had to flee France. With the assistance of the American journalist Varian Fry in Marseille, he escaped the Nazi regime and went to the United States. There, he eventually settled in Hastings-on-Hudson, New York.
He was one of 250 sculptors who exhibited in the Third Sculpture International Exhibition held at the Philadelphia Museum of Art in the summer of 1949. He has been identified among seventy of those sculptors in a photograph Life magazine published that was taken at the exhibition. In 1954 a Lipchitz retrospective traveled from The Museum of Modern Art in New York to the Walker Art Center in Minneapolis and The Cleveland Museum of Art. In 1959, his series of small bronzes To the Limit of the Possible was shown at Fine Arts Associates in New York.
Beginning in 1963 he returned to Europe for several months of each year and worked in Pietrasanta, Italy. He developed a close friendship with fellow sculptor, Fiore de Henriquez. In 1972 his autobiography, co-authored with H. Harvard Arnason, was published on the occasion of an exhibition of his sculpture at The Metropolitan Museum of Art in New York.