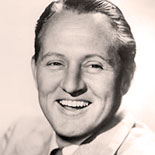 Arthur Gordon "Art" Linkletter (July 17, 1912 – May 26, 2010) was a Canadian-born American radio and television personality.
He was the host of House Party, which ran on CBS radio and television for 25 years, and People Are Funny, on NBC radio and TV for 19 years.
Linkletter was famous for interviewing children on House Party and Kids Say the Darndest Things, which led to a series of books quoting children. He became a naturalized US citizen in 1942.