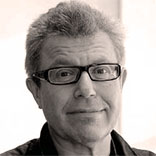 Daniel Libeskind (born May 12, 1946) is a Polish architect, artist, and set designer of Polish Jewish descent.
Libeskind founded Studio Daniel Libeskind in 1989 with his wife, Nina, and is its principal design architect. His buildings include the Jewish Museum in Berlin, Germany, the extension to the Denver Art Museum in the United States, the Grand Canal Theatre in Dublin, the Imperial War Museum North in Greater Manchester, England, the Michael Lee-Chin Crystal at the Royal Ontario Museum in Toronto, Canada, the Felix Nussbaum Haus in Osnabrück, Germany, the Danish Jewish Museum in Copenhagen, Denmark, and the Wohl Centre at the Bar-Ilan University in Ramat-Gan, Israel. His portfolio also includes several residential projects.
Libeskind's work has been exhibited in major museums and galleries around the world, including the Museum of Modern Art, the Bauhaus Archives, the Art Institute of Chicago, and the Centre Pompidou. On February 27, 2003, Libeskind won the competition to be the master plan architect for the reconstruction of the World Trade Center site in Lower Manhattan.