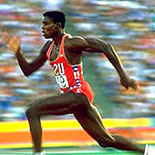 Frederick Carlton "Carl" Lewis (born July 1, 1961) is an American former track and field athlete.
Lewis won 10 Olympic medals, including nine gold, and 10 World Championships medals, including eight gold. His career spanned from 1979 to 1996 when he last won an Olympic title and subsequently retired.
His accomplishments have led to numerous accolades, including being voted "World Athlete of the Century" by the International Association of Athletics Federations and "Sportsman of the Century" by the International Olympic Committee., "Olympian of the Century" by Sports Illustrated and "Athlete of the Year" by Track & Field News in 1982, 1983, and 1984.