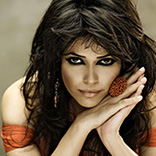 Yasmin Levy, born on December 23, 1975, is an Israeli singer-songwriter of Judeo-Spanish music.
Yasmin Levy is of Sephardic descent from the city of Izmir, Turkey. Her late father, Yitzhak (Isaac) Levy (1919–1977),was a composer and hazzan (cantor), as well as a pioneer researcher into the long and rich history of the Ladino music and culture of Spanish Jewry and its diaspora, being the editor of the Ladino language magazine Aki Yerushalayim.
With her distinctive and emotive style, Yasmin has brought a new interpretation to the medieval Judeo-Spanish (Ladino) song by incorporating more "modern" sounds of Andalusian flamenco and Persian,as well as combining instruments like the darbuka, oud, violin, cello, and piano.
In her own words: I am proud to combine the two cultures of Ladino and flamenco, while mixing in Middle Eastern influences. I am embarking on a 500 years old musical journey, taking Ladino to Andalusia and mixing it with flamenco, the style that still bears the musical memories of the old Moorish and Jewish-Spanish world with the sound of the Arab world. In a way it is a 'musical reconciliation' of history.
Yasmin is a goodwill ambassador for the charity Children of Peace.